The contactless experiences that are winning customers
August 11, 2020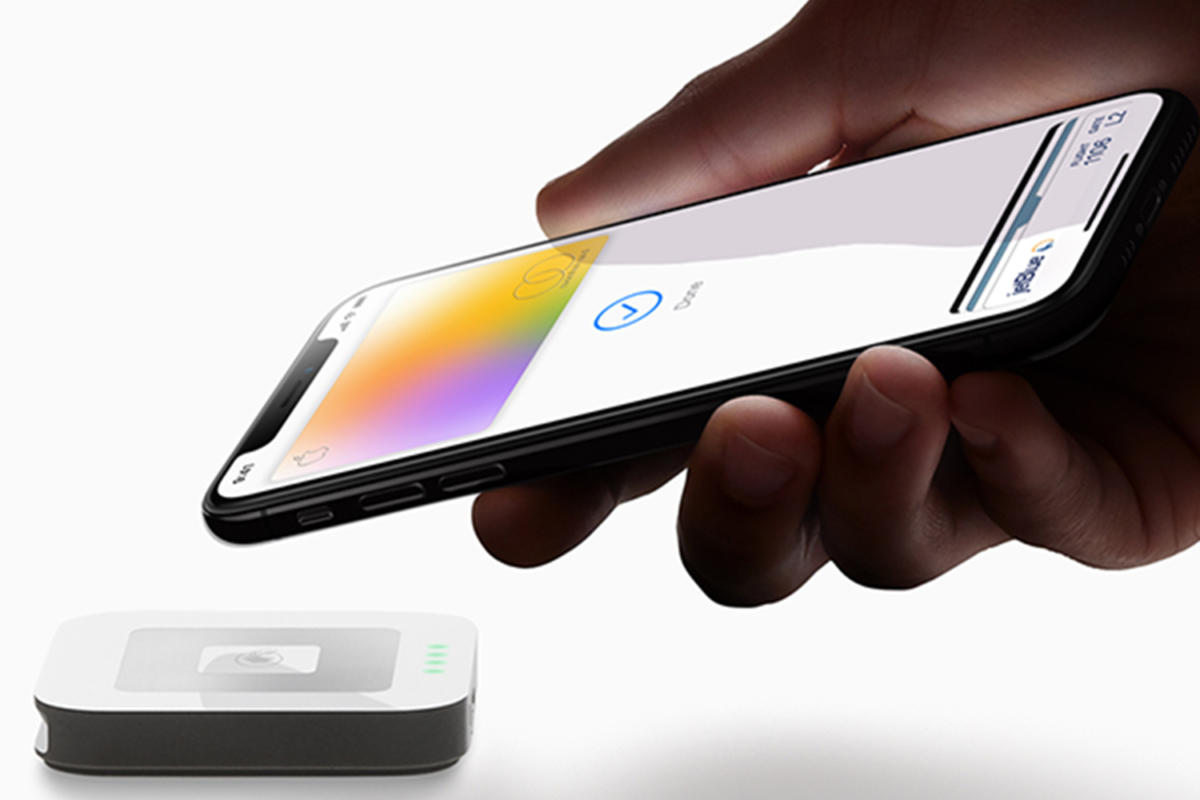 Imagine a world where we're all comfortable going to the movies again. Sounds great, right? You buy your tickets online and there's plenty of space in the theater for social distancing. So far so good. But then you want a soft drink. You head to that familiar push-button dispenser. And guess what? It's gone hands free, too.
The same Freestyle beverage dispensers that have been popping up in fast food chains and movie houses in recent years now give customers the ability to literally pour by phone. No app needed, just scan a QR code on the dispenser to get your icy cold drink served, and you don't have to touch a thing.
This is just the latest in a long list of examples that show how rapidly the entire customer journey is going contactless. This trend was already moving forward before COVID-19, but now brands are hitting the gas in response to consumer demand.
If there's any question as to whether contactless forms of purchase are on the minds of consumers, just have a look at the chart below, courtesy of Google.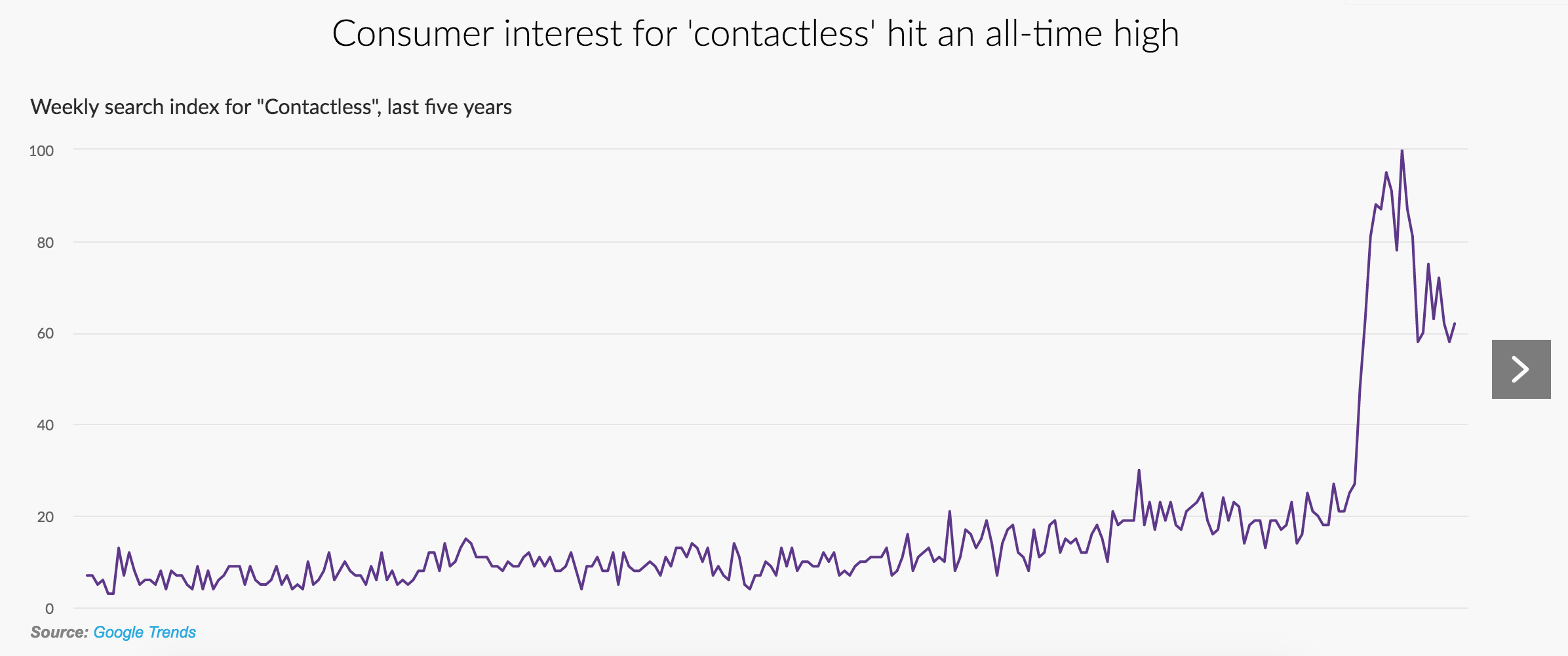 What it shows is that weekly search volume for all things contactless is up fivefold in the past year, and brands of all shapes and sizes have taken notice. As consumers adjust their buying habits to the ongoing COVID-19 crisis, many are shifting brand loyalties based on the ability to purchase and acquire goods in a no-touch, no-contact manner.
Both AAA and Mastercard have launched campaigns entirely around contactless goods and services. Mastercard is encouraging consumers to shop local businesses that offer a no-touch way to shop. AAA, meanwhile, has spent the summer pushing savings to its members through an ongoing email campaign, but with a COVID-era twist. They're featuring discounts found with contactless providers across multiple industries, including entertainment, dining, automotive, and of course, travel.
Earlier this year, we discussed the importance of brands promoting their safety protocols as part of broader strategies for bringing loyal customers back. But with demand for contactless experiences so high, marketers are discovering the value of touch free in acquiring new customers as well. In the short term at least, the ability to offer a contactless customer journey amounts to creating all new competitive advantages that can be used to gain market share.
With that in mind, here are some of the latest examples of how brands across multiple industries are transforming the end-to-end journey to make it as touch free as possible.
Touch free shopping
Touch free shopping experiences were already on the rise pre-COVID, so for many consumers this has been a relatively easy transition. What is new to many shoppers, however, is how more brick and mortar brands are investing in contactless in-store shopping experiences.
For example, clothing retailer Showfield's has launched an app called Magic Wand that allows customers to interact with every part of the store without touch a thing. Instead, they point their phones at various displays to see product information, full lines, and more. Then they can add items to a virtual cart and have them packaged up and left at in-store pick up points.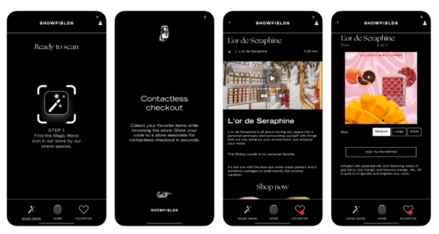 While shoppers aren't required to browse without touching, the app serves as an added incentive to those who want to shop in-person, but are still more comfortable with a contactless experience.
Touch free purchase
The use of contactless payment options has risen 150% in the past year alone. Many brands have responded by placing contactless experiences at the center of their messaging.
CVS has jumped into the fray, with PayPal and Venmo QR codes arriving in over 8,000 stores this year. Gas stations have stepped up the addition of touch free pay at the pump nationwide, with major brands like Shell and ExxonMobil also allowing customers pay by app. These options, which were catching on prior to COVID-19, are all the rage today.
Touch free delivery
Amazon, the reigning king of at-home delivery, clearly sees a contactless experience as the future of its business. Aside from its much ballyhooed delivery-by-drone rollout, the retail giant is also pushing forward with Amazon Scout, featuring electric, autonomous delivery vehicles that can roll an untouched package right to your doorstep.
Delivery also appears to be a big part of the future of restaurants, as players such as Grubhub and Uber Eats continue to jockey for advantage by offering ways to get food into your hands without it passing through anyone else's. Pizza Hut alone delivered over 16 million no-touch pizzas between March and July. This trend has also led to the rapid rise of ghost kitchens, where known brands prepare food for delivery only, with no in-person dining options available at all. Ghost kitchens allow restaurant brands to produce food for delivery faster and more efficiently than in a traditional setting, and according to Restaurant Business, could be doing $1 trillion in business by the end of the decade.
Touch free everything
Just how far can the touch free journey go? In July of this year an experiment began at D/FW Airport to find out. It's a collaboration between the airport and American Airlines, who together share a common goal: get people flying again.
Some of this work actually began before COVID-19 disrupted the travel industry, when the airport began rolling out biometric boarding for international flights. While biometric technology comes with own set of baggage (pun intended) regarding privacy, studies show that travelers are rapidly growing more comfortable with it.
Today, the airport is going even further rolling out touch-free restrooms, ticketing, and check in as well. The end goal is to give wary travelers the ability to move through the entire airport experience without having to touch a thing.
The important takeaway for marketers is simple: your customers, and those of your competitors, are demanding more ways to engage with brands in a contactless manner. It's likely these experiences will eventually grow ubiquitous and amount to nothing more than the cost of entry for brands in most any industry. Right now, however, they offer marketers a unique chance to jump ahead of the competition to drive market share. And that's an opportunity every brand should examine closely as it maneuvers for position in today's uncertain marketplace.
Every day offer brands new opportunities to win customers and grow market share. Let's start finding your opportunities today.
Check out more marketing insights below on how to navigate the uncertainties facing today's brands.