Your reopening message: getting it right
May 15, 2020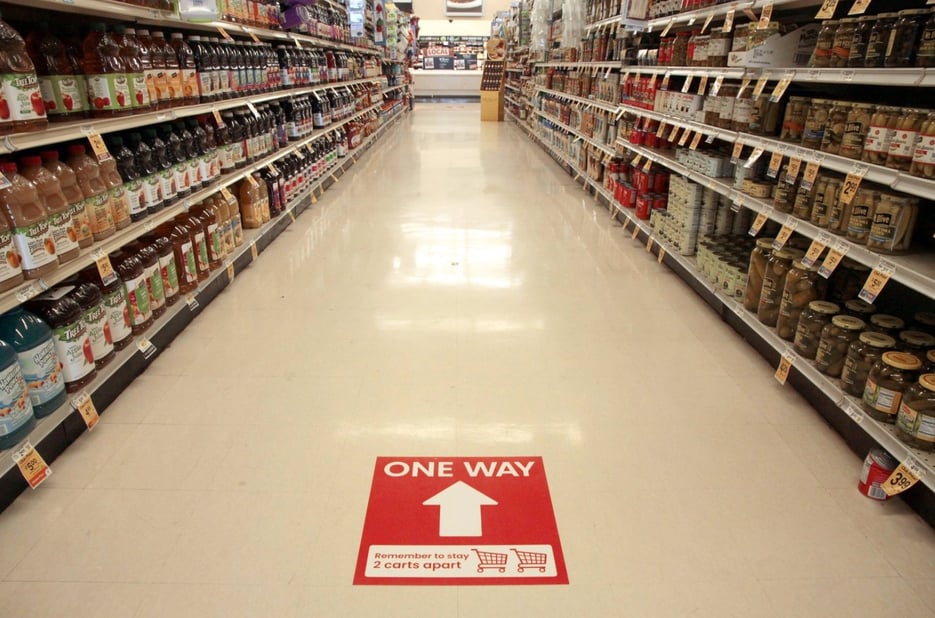 Ready or not, states are reopening their economies, bringing brands along for the ride. While much of the current focus is on the reopening of brick and mortar retail, the impacts will be felt across numerous categories, including dining, travel, entertainment, health and wellness, fitness, and more.
It's a moment that's tinged with equal parts relief and concern. Everyone wants life to return to normal, but few people have any real idea of what that "normal" is going to look like. To guide consumers successfully through this period, it's up to brands to strike the right tone, which starts with the right message. And just saying "we're open" won't cut it.
Here's our checklist for messaging as we all attempt to return to some degree of normalcy in the weeks ahead.
Lead with empathy and caution.
Watching the news, it'd be easy to assume that Americans are all divided into two camps of either rebellious COVID disbelievers or blindly fearful stay-at-homers. The truth, while perhaps not as entertaining, is much more nuanced, with "cautious hopefulness" prevailing among the overwhelming majority.
Following a large consumer insights study across the U.S. and Canada, Entrepreneur concluded that any approach to messaging at this time should strike a tone of "caution and empathy." Empathy towards everyone's deep desire for a return to normalcy, and caution to address the legitimate concerns people have regarding how brands will ensure their safety.
As we've witnessed here in Texas, some businesses have experienced damaging backlashes for taking a too casual approach to their reopening messages. Such self-inflicted wounds are easily avoided. Brands have already lost enough revenue without needlessly driving away paying customers who aren't comfortable with their protocols.
Manage expectations.
We've talked about tone and delivery. Now let's discuss the substance of your messaging. Managing expectations should be priority one, especially if the customer experience has changed.
Beyond safety precautions themselves, there's bound to be an impact on the nature of the services provided. Wait times may be longer, and some experiences will have been altered entirely.
The more that you can clarify the changes to customers before they return, the better. Publish easy-to-follow guidelines and send them out to everyone on your mailing lists. Plaster them front and center on the website. Even consider paid messaging that leads people through the new experience. Anything that gives people confidence in the steps you're taking while keeping surprises to a minimum.
Some brands have gone one step further, actually emerging as thought leaders for how to re-open in a successful manner. HermanMiller, for example, has been quite proactive in recommending strategies for reopening workplaces. You can find many of their recommendations here.
Involve your people.
The nature of your reopening will impact employees as well as customers, so how you convey information internally is as important as what you say externally. Nothing could grind a reopening to a halt faster than tales of workers refusing to come in because they were either uncomfortable or unfamiliar with new protocols. It's critical not only that employees understand your approach, but that they have bought into it as well.
Start by seeking their input on what they feel is important to tell customers. Then, when possible, allow them to serve as your voice. Ask yourself, who will customers be most comfortable hearing from at this time? Sales reps, customer service, the CEO? Whichever voices they trust the most should be the ones people hear.
Digital changes are here to stay.
Nowhere has consumer behavior change manifested itself more than in the digital landscape. From Zoom meetings and Instacart deliveries to telehealth and online banking, customers have adapted fast to doing business in a zero-contact world.
The real implications of this behavior shift have been nothing short of astounding. According to McKinsey, the U.S. business sector has made five years of projected digital advancements in just a few months. And with 75% of first-time digital customers intending to continue using digital touch points going forward, the bulk of these digital shifts are likely to be permanent.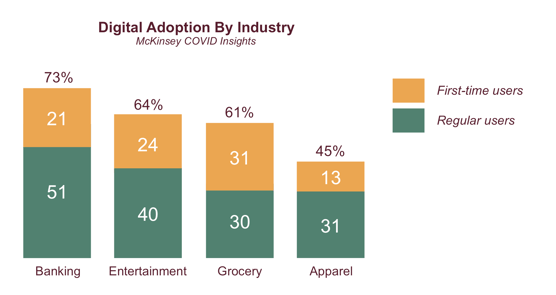 The digital shift is true for messaging as well as services. For many customers, their key interactions with preferred brands are now happening entirely in the digital realm, and they'll expect those touch points to be every bit as consistent as the digital sales channels they've come to embrace. So while brands should be mindful of increased out of home consumer activity going forward, they need to maintain as much consistency as possible in where they deliver their messaging in the digital space.
Keep giving.
We know. It feels like the past few months have been all about pitching in and giving back. This is likely the new normal for brands in the age of COVID-19. And as we've discussed before, the positive tones that brands set during the height of the pandemic are tremendous assets to build upon.
This giving spirit can take on many forms. There's giving to the community, but also giving to the customers you need to lure back. Consider the financial straits many suddenly find themselves in, and ask if there's anything you can do to make buying a more palatable proposition.
Think especially about what you can do to thank your core loyalists who have stuck by you. For example, many brands will need to initiate some form of a soft launch as they work out the kinks to re-opening. You can use this to your advantage by inviting loyalists to participate. They'll feel privileged to have first crack at your offerings, and are also the audience most likely to forgive any hiccups.
Stay nimble.
The brands hurt hardest by the pandemic have been the ones who weren't agile enough to change course. With so much uncertainty still in the air, the same will be true going forward as well. Entrepreneur notes that 86% of Americans believe that the current situation will lead to a "new normal," but few have any idea what that may look like. And that's unlikely to change so long as they continue to face the combined headwinds of a stumbling economy and a health crisis that's far from over.
That means brands must be nimble enough to meet consumers' rapidly changing expectations. Stay open and flexible to new ways of fulfilling their needs, be it through products, pricing, or experiences. It's a balancing act, as you must also maintain an air of consistency and reliability. Uncertainty looms large, so the more control you're able to display, the more confidence you'll generate among customers.
In such a unique period of transition, the right messaging might be your best weapon for managing the substantive shifts in consumer behavior we're all witnessing. The Entrepreneur study cited earlier also revealed that 89% of people who have changed how they shop and interact with brands intend to keep many of those changes in place even if things fully return to normal. It's up to brands to acknowledge and respect this if they want those customers to come back. The proper message, delivered in the right way, is your key to helping them choose you.
Ready to craft a reopening message that brings back customers and drives business? Slingshot is here to help. Reach out today and let's get started.
See more Marketing insights below on how to navigate your brand through the COVID-19 Crisis: