Predicting consumer behavior post COVID-19
April 24, 2020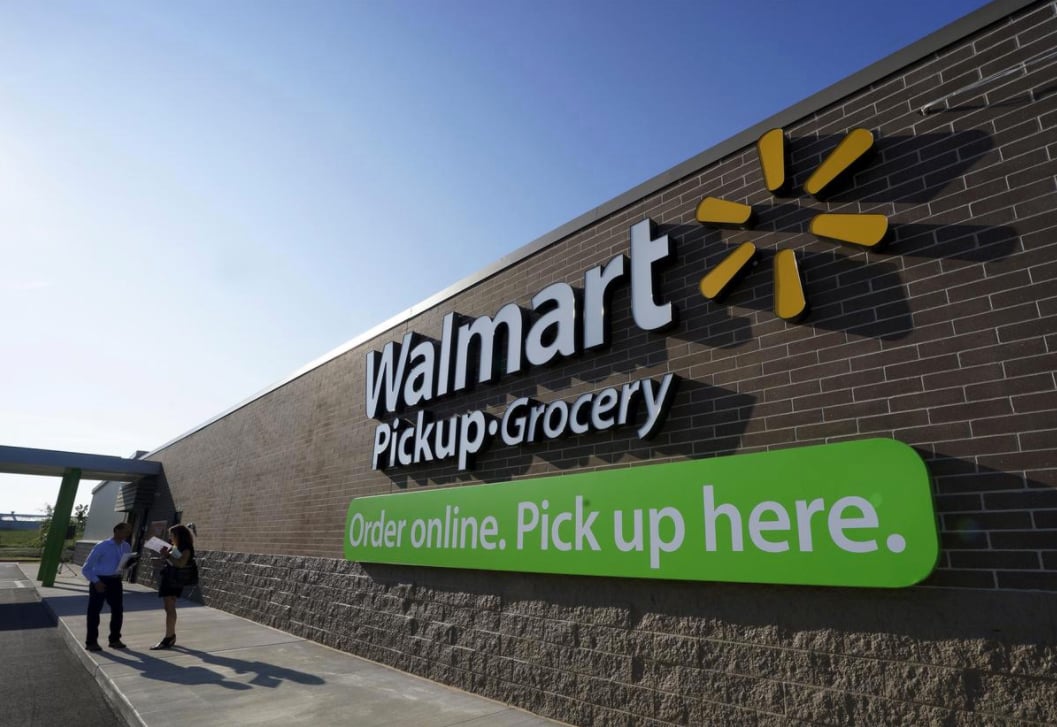 Few could have anticipated that the most visible trend in consumer behavior at the onset of the COVID-19 crisis would be the hoarding of toilet paper. And yet what we know from the past is that this behavior was actually consistent with how people react in a time of crisis. According to The Journal of Market Research, people hoard in response to the stress they feel when things seem out of control. The more uncertain things appear, the more they seek ways to create certainty for themselves, which often manifests in how they shop.
But as marketers prepare and plan for driving revenue in the coming months, it's more important to consider how people will behave once the crisis ends. While there is much to learn from past behavior, we must also acknowledge the unique nature of this crisis, with health and economic impacts converging in ways we've never seen.
Here's what some of the latest consumer research says about likely consumer behavior once restrictions lift and people seek to resume their normal lives.
Who has already changed their shopping behavior? Nearly everyone.
Data collected by Numerator indicates that roughly 90% of consumers have changed the way they shop. What's perhaps more telling is that half of consumers surveyed believe these changes will be permanent, while only 35% feel otherwise. Some of the changes we've already witnessed include:
53% of consumers stocking up on products they wouldn't have before
31% making online purchases they would normally do in-store
53% delaying purchases or services they had intended to spend money on
20% of consumers shopping at stores or purchasing types of products they wouldn't have prior to the pandemic
Those are massive shifts to consider, impacting individual brands and entire product categories alike. Now let's dig into the numbers for a look at some more specific behavior changes.
Changes in grocery shopping appear to be here to stay.
Remember when Uber and Lyft dominated app downloads? That's so pre-COVID. Ride sharing has understandably gone quiet as everyone stays home. So what's trending in app downloads? Grocery.
Shipt, Instacart, and shopping apps from familiar brands like Walmart, Costco, and BJ's are all taking off. Instacart alone is seeing daily downloads in the 40,000 range as more and more people opt to stay out of stores.
A recent survey featured by Retail Leader showed that household penetration for delivery and/or curbside service is approaching over 30%, versus 19% a year ago. Monthly order volume, meanwhile, has soared 139% since August of 2019. Providers are now so overwhelmed by the demand that they're struggling to keep up, often making it impossible for users to get a slot for delivery.
But the real story isn't just the growth of delivery, but of "click and collect," which lets people buy online and pick up their orders in person. This is being driven by the investments that leading grocery brands are making in these operations, consumer preference for dealing directly with their stores of choice, and an assumption that as life returns to normal, being away from the house more often will leave people less inclined to want their groceries delivered there.
More activities will continue to shift in-home.
A recent Harris Poll revealed a great deal about shifting consumer sentiment with regards to at-home behavior post COVID-19. Among the findings: 85% of consumers intend to exercise more at home instead of at gyms, even after the crisis ends.
This bodes well for the growth of at-home exercise brands like Peloton, which have seen sharp increases in orders since the beginning of the crisis. Indeed, the entire fitness industry appears to be in the midst of wholesale reinvention, as evidenced by the announcement by Gold's Gym that they plan to permanently close more than 30 locations. Other brick and mortar fitness brands are facing similar headwinds.
Additional signs of at-home behavioral shifts are reflected in the chart below, which also indicates that many people will still favor in-person grocery store visits and medical treatment, even as delivery and telemedicine make inroads.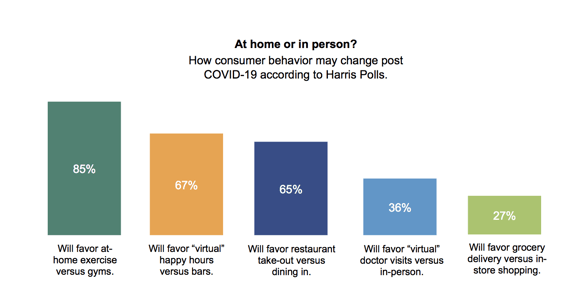 Value shopping will have a lasting impact on brand preference.
As we've discussed in previous posts, not only are consumers in a downturn more likely to favor value or generic brands, they often stick with those brands down the road if the experience is favorable. This is important, as the current crisis has created enormous shifts in brand preference.
A study of over 700 consumers by Influence Central revealed the following: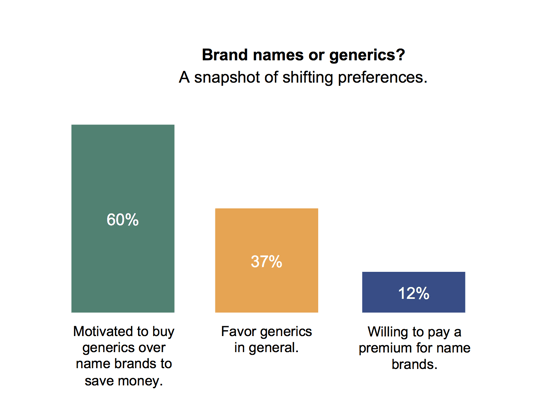 Compounding these shifts are the stresses being placed on the supply side. The same study revealed that 75% of consumers have been unable to find their first choice of products in store, and nearly half report the same happening to them when shopping online.
In other words, in some cases consumers aren't just choosing to buy generics, they're being forced to do so as well.
Cautious spending behavior may go hand-in-hand with age.
EY has taken a look at changing consumer behavior by age group, and the results are fascinating.
Among the findings? People under the age of 45 are more likely to be in a "hibernate and spend" mode, staying at home but spending more to stay comfortable while stuck there. Those over 45, however, tend to fall into the "cut deep" category, making more substantial changes to their spending behavior, particularly as it relates to non-essentials.
And it's no surprise that the older segments are also more likely to keep on spending less longer term, whereas younger consumers are more hopeful about making up for lost time.
Travel will be back, but it won't be the same.
While the long-term challenges for travel are quite real, the good news is that consumer desire is high to get back out there. Skift has released data showing that 53% of U.S. consumers expect to travel for pleasure within six months once restrictions are lifted. Vacations and holidays remain at the top of most people's list of things to spend money on once they feel comfortable doing so.
What's perhaps most telling is the change in accommodations preferences for travel post COVID-19, with double digit upticks for vacation rentals, smaller inns and B&Bs, while traditional hotel chains are showing a sharp decline.
It's also important to note that over 60% of those potential travelers expect those trips to be over the road. A good sign for drive destinations, but another bad sign for the airlines.
It's in the interest of travel brands to communicate clearly with their audiences about just what they're doing to ensure a safe experience.
Americans remain cautiously optimistic about what's next. According to McKinsey, consumer sentiment in the U.S. is currently higher than anywhere else in the world, which points towards favorable consumer activity as conditions improve. But as we've seen, that activity may look like anything but business as usual.
The time is now to prepare your brand for the changes to marketing post COVID-19. At Slingshot, we're here to help you do it. Reach out today and let's get started.
See more Marketing insights below on how to navigate your brand through the COVID-19 Crisis: