Home economics: what this fall's nesting trend means for marketers
October 6, 2020
In our just released Fall 2020 Forecast, we pointed out how the combination of lingering COVID-19 concerns plus typical seasonal trends are likely to result in unusually high numbers of consumers spending more time at home as the weather turns cooler. Unlike the initial pandemic lockdown back in the spring, however, this trend will be driven as much by consumer desires for comfort, and not out of health and safety concerns.
To a certain extent, the stay-at-home trend had begun to catch marketers' eyes long before the pandemic hit. Back in 2018, the term "the homebody economy" was even coined to represent how young, cash-strapped (mostly female) consumers were seeking more joy and pleasure from the comforts of home. Thanks to COVID-19, that trend hit the gas.
And marketers should take note, because as we enter the fall season, those homebody customers are staying home for different reasons now than they were just a few short months ago. In March, we stayed at home because we had to. Now, many people are doing so because they want to.
Here are a few of the key implications brand marketers should consider if they hope to engage in Fall 2020's stay-at-home economy.
Celebrating home time
During spring and early summer, the lockdown felt like a burden, and brands responded in kind, with heartfelt, sympathetic messaging letting people know "we're all in this together."
But as we head into fall, more consumers are discovering the joys of being home this time of the year. Oreo has responded with a fall campaign celebrating the cookie as a device made to create human connections– an approach we happen to believe in as well. In doing so, Oreo has tapped into the true spirit of the season, when real connections don't come from technology alone.
Miller High Life is another brand emphasizing the simple pleasures of being at home. Earlier this year, the beer brand resurrected its famous "High Life Man" campaign, which it continues now into the autumn months. With scenes of brats sizzling on a grill and a man leisurely thumbing an Appalachian Trail field guide from the comfort of his screened-in porch, the campaign seeks to revel in, rather than lament, extended time at home.
Comfort is key
Let's be honest– there's little comfort in the outside world these days. Between COVID-19, mounting job losses, and national politics that don't exactly warm the heart, the urge to crawl into bed and stay there has never been greater.
No surprise, then, that among the findings from our fall forecast is the desire consumers have for comfort and warmth this time of year. And that's especially true when it comes to food. As the chart from our study below reveals, people overwhelmingly favor familiar tastes and flavors during the fall months.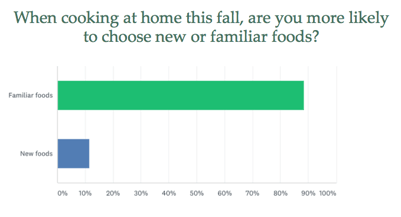 But it goes beyond what we eat. According to Today, some of the trendiest purchases heading into the fall include house slippers. Normally a hot item during the holidays, consumers are suddenly seeking cozy footwear after a summer of working from home in flip-flops. Brands like Lululemon are also keeping a close eye on this trend, featuring clothing lines that combine seasonal needs with the casual comfort so many at-home workers have become accustomed to.
Think seasonally
Is it possible to discuss seasonal marketing tactics in the fall without mentioning pumpkin spice? Perhaps, but we're going to do it anyway. Pumpkin spice has taken over everything this fall, from the delicious to the ridiculous.
Yes, including Spam.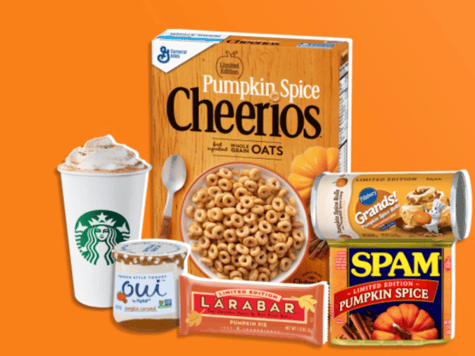 But as we pointed out in our fall forecast, there's much more to the season than what people put in their lattes. In fact, according to Web Restaurant Store, ingredients such as apples, maple syrup, and ginger hold just as much appeal for consumers during the fall, while making it easier for brands to stand out in a deep sea of pumpkin. Food brands should also highlight oven recipes, one-pot meals, and shared dishes like casseroles.
Mobile devices for immobile people
In the months after the lockdown began, mobile usage was up a full 40%. All indicators are that so long as people are at home, this uptick will continue. Added to this is what we forecast to be strong purchase intent among consumers for smart devices like phones and wearables. It all stands to reason, as the more people exercise, work, and simply stay connected at home, the more demand there will be for the devices that make this happen.
What comes next?
As the seasons have changed from summer to fall, we've witnessed numerous changes in consumer behavior. But while consumers may be getting comfortable, brands can't afford to do the same. Change is coming again. Once consumers get past the holidays, you can expect a different set of priorities and intentions. Plans will be made for the coming year. Resolutions will be declared. The pumpkin spice will thankfully return to a dark corner of the cupboard. And purchasing behavior will shift once again.
At Slingshot, we plan to be ready for it, so keep an eye out for our Winter 20/21 Forecast, coming in the months ahead.
Want to stay ahead of how your customers are likely to behave in the months ahead? Reach out today.