Marketing to Seniors: Aging Adults Are Committed to the Arts
August 1, 2022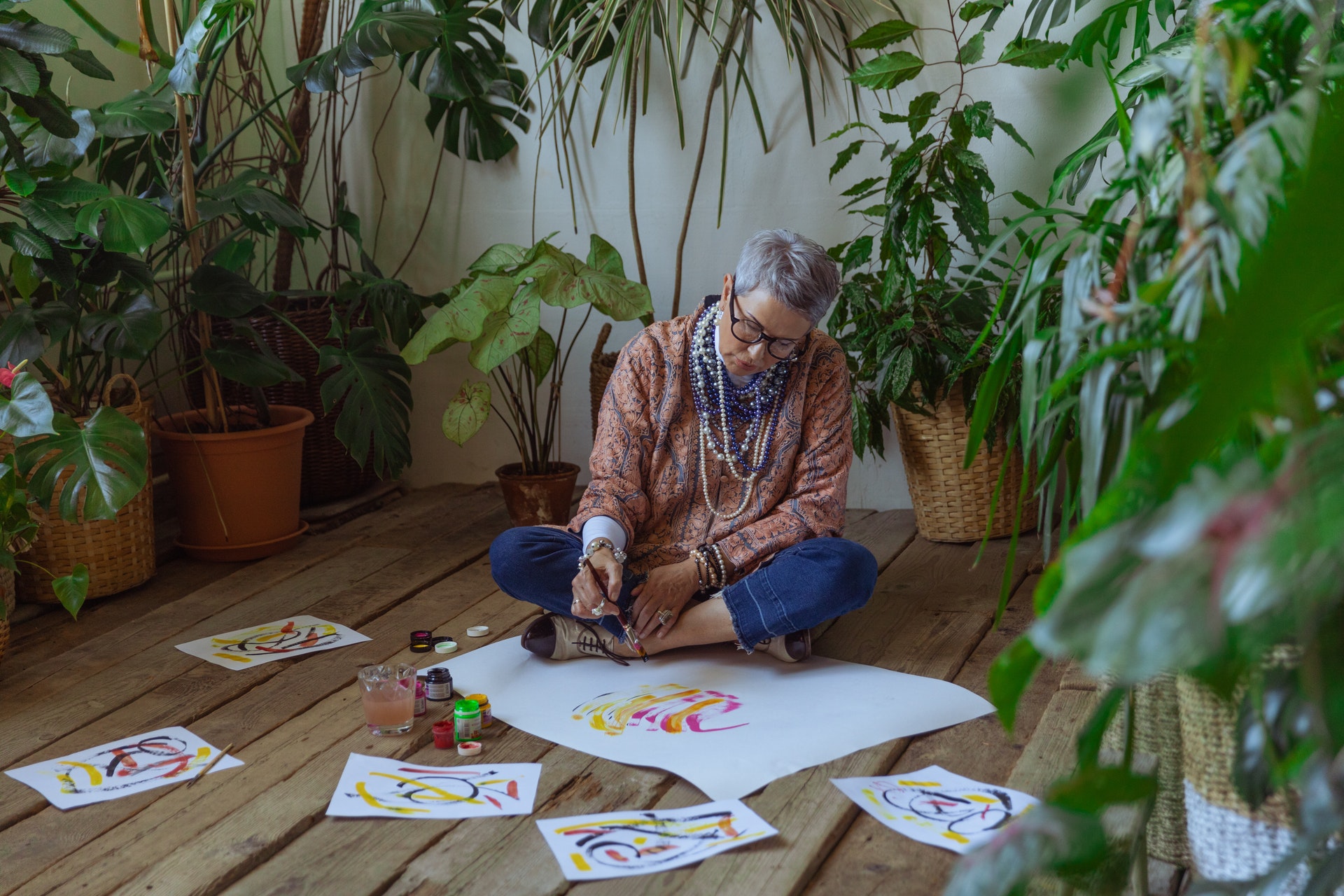 There are a multitude of connections between older adults' desire to thrive in later life and a high interest in the arts. That's the general conclusion from a recently published national survey. Seniors want to have fun, connect meaningfully with others, want to create and want to learn. And they find that arts and culture contribute to all of these desires.
Culture Track, a national online survey of audience behaviors, attitudes, motivations and barriers to cultural participation that has been conducted since 2001 recently published the results of a national online survey of over 28,300 adults, 55+, conducted in April, 2021. It revealed that as they age, older adults are increasingly committed to engaging in the arts – both in person and digitally – because the arts contribute to their quality-of-life in many ways, especially in times of uncertainty (like what the country has been through with COVID-19).
When asked, "What kinds of things do you want more of in your life right now?" and offered fourteen options from which each respondent could select five, the two most common selections were more fun (53% of respondents) and more/better social connection (42%).
It is no surprise that "fun" was cited more than any potential response. And it's easy to see how arts and cultural opportunities can be a means to deliver fun. Seniors specified that arts and culture provided opportunities to relax and laugh (60% of respondents), as well as opportunities to experience moments of beauty and joy (46%).
A Sense of Belonging
The importance placed on "social connection" may be a bit surprising, though it makes sense. The common interest among lovers of the arts creates a sense of community that has been absent since 2020 – not unlike attendance at sports events where everyone cheers for the home team or theatrical productions where the audience laughs and cries together. The opportunity to collectively relax, laugh and experience the joy and beauty delivered by the arts engenders that same camaraderie and sense of belonging that has been missing. And seniors probably need this more than anyone!
More than Being a Spectator
The opportunity to actually participate with others in arts and cultural activities adds to the joy a senior derives from those activities, whether the activity is an art class, a book club, a cooking class or any other activity that delivers a new experience, a sense of accomplishment or an improved skill. And creative activities that validate skills and capabilities – whether experienced individually or with a group – become increasingly important with age.
A majority of seniors are lifelong learners. The Culture Track study found that encountering new ideas and experiences was the leading benefit older adults gained through digital arts offerings. Furthermore, the desire to learn something new increases with age.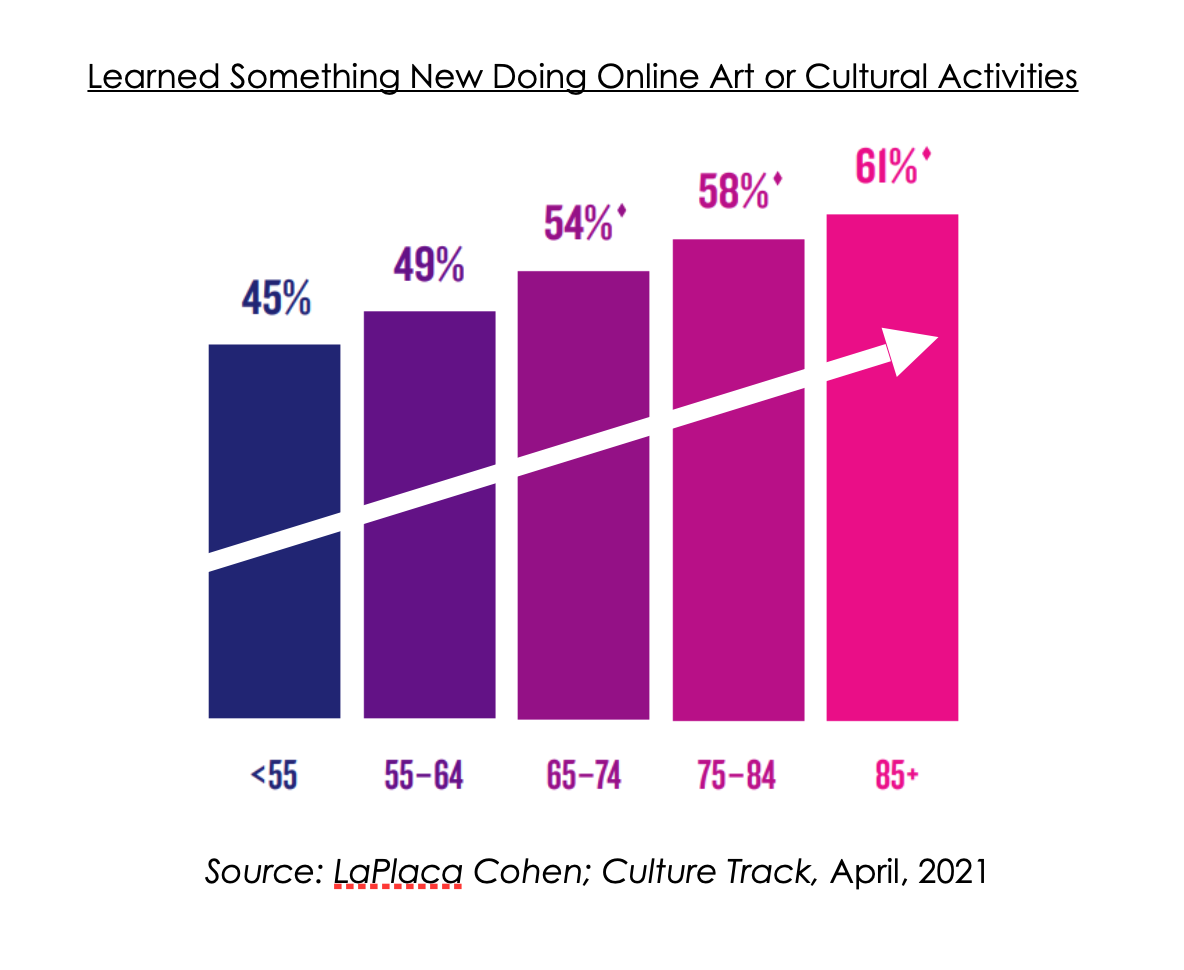 Implications for Marketing Arts & Cultural Activities
Older adults aren't ready to be put on the shelf. They still want to lead active, fulfilling lives, based on their individual capacities. If you are involved with an arts or cultural organization, there are opportunities to entertain as well as nurture meaningful relationships among older audiences with programming that facilitates greater connection and shared experience, such as:
Volunteer opportunities that can be filled by elderly workers provide avenues for them to associate with like-minded seniors.
Reasonably-priced activities designed specifically for retirees – especially those that allow group participation – can be attractive offerings for many.
Arts/culture support organizations can draw on the senior community – both physically and monetarily – providing participating seniors an additional sense of value and contribution to a worthy cause, not to mention the added support for the organization.
Programming provided to senior living communities – in person or virtually – can allow the communities to offer fresh activities for their residents at reasonable cost.
This is just a sampling. A lot more can be added to this list. The main point is this: the arts and cultural activities feed the souls of seniors, probably to a greater degree than what their younger counterparts' experience. Not only will these older adults enjoy the benefits of their participation with the arts, they can be a benefit to the arts as well.