Staying engaged through COVID-19: a Slingshot case study
May 7, 2020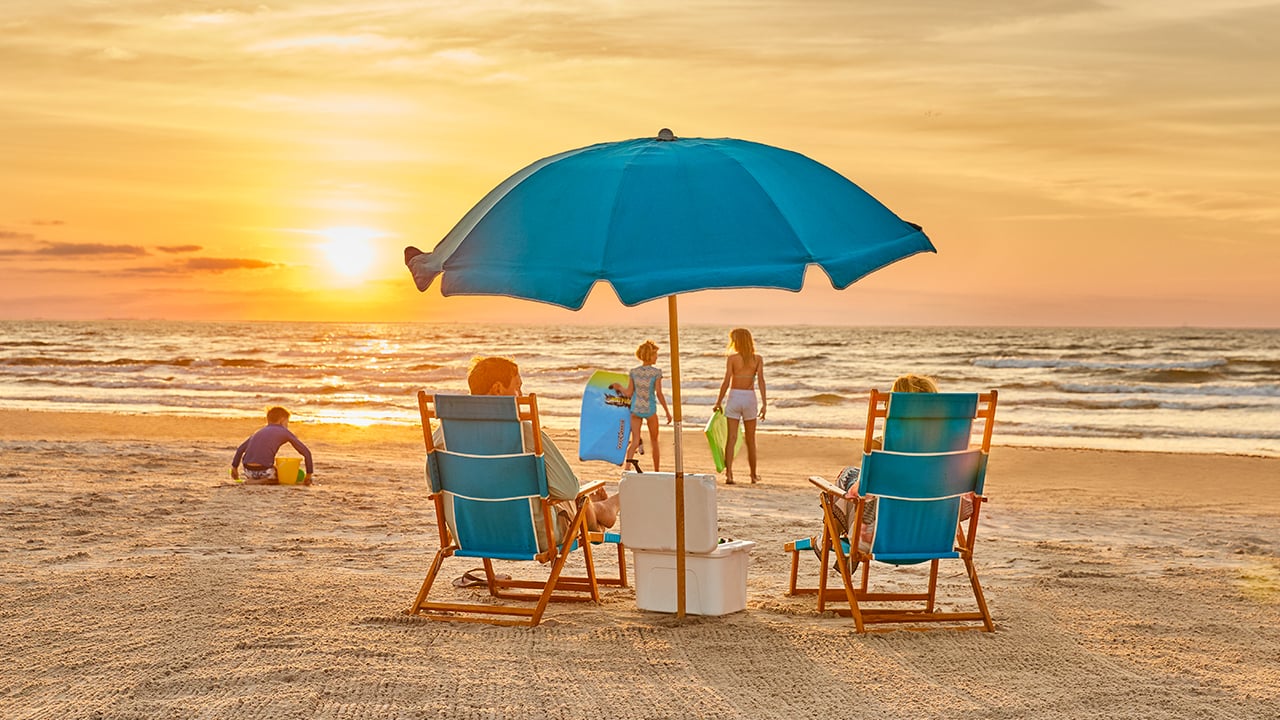 Since the onset of the COVID-19 crisis, at Slingshot we've been diving head first into its impacts on marketing, sharing the best data and intelligence available, and seeking out the right paths forward for brands of all shapes and sizes.
As we've discussed in previous posts, there are many great reasons for staying active in the marketplace in such moments of disruption and uncertainty. They include:
Building goodwill by putting customer care first
Saluting essential workers and highlighting community service
Providing important safety and health information
Creating a sense of brand consistency and stability
Evolving your offering to better suit changing needs
Acquiring market share at a time when competitors are relinquishing it
Staying top of mind for when customer are able to return
One look at your television right now and you'll see ad after ad that was produced to accomplish any one or a combination of the above goals. We've been collaborating with many of our clients to do the same, keeping them engaged with customers through these unique circumstances.
In light of this, let's take a close look at how the crisis unfolded for one of our own clients in one of the hardest hit categories of all: travel and tourism.
Port Aransas: a COVID-19 strategy
Slingshot has enjoyed a tremendous partnership with Port Aransas & Mustang Island Tourism ever since we started working together in the spring of 2018. Mind you, this was just a few months after Hurricane Harvey laid waste to the beloved Texas destination. In those early days of the engagement, our job was as simple as it was daunting: convince potential visitors that their favorite beach community was back and open for fun. Our strategy for bringing Port A back to market would soon become a model for how to re-launch a destination brand in the wake of a natural disaster, and you can learn all about it here.
Port Aransas went from being all but shut down to driving record numbers of visitors in just one year, and we were thrilled to be a part of it. Spring Break 2020 was primed to shatter those records again, but, well, we all know what happened next.
COVID-19 was classified as a pandemic by the CDC in the middle of Spring Break/Spring Vacation season in Texas. Job one was to pull down any messaging that was no longer relevant during the shelter-in-place decree.
But we also saw that there was a greater opportunity here. Through our ongoing assessment of the consumer landscape, we knew that once people were able to travel again, they would favor drive destinations like nearby beaches much more than anything involving airplanes, putting Port A in a great position to attract future business.
Instead of going dark like other destinations did, we altered the messaging to better match the times. The solution came together in the form of a simple idea: Our beaches will be waiting.

Running these billboards in major markets for Port Aransas visitors sought to accomplish two goals. One, it let loyal visitors know that Port A cares about them and their safety. And two, it subtly reminded potential visitors that when the time is right, there's an amazing waterfront destination that will be ready for them. Just look at that sand and surf. You know you want to be there.
But there was more to do. We also wanted to remind people that despite how weird the world seemed, this was still the same Port A their families had come to know and love over the years, with the same unique spirit and personality. So we launched a social media series that brought their favorite beach right into their living rooms. The message? The beach misses you, too.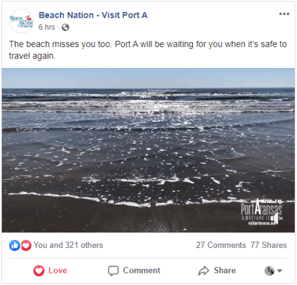 The response to these combined efforts has been overwhelmingly positive. The social media initiative alone saw an engagement lift of over 600% from previous messages. Meanwhile, website traffic shot way up and booking inquiries went through the roof. By staying proactive and acknowledging the needs and concerns of visitors above all else, we were able to capitalize on pent up demand, fuel top-of-mind awareness, drive future bookings, and most important of all, foster goodwill among Port A's most loyal visitors. By all measures, today Port A is positioned quite nicely for when things return to normal.
It should also be pointed out that none of this was achieved through expensive production work or out-of-budget media buys. In fact, as we've discussed before, keeping such expenses in check can actually create the type of human, down-to-earth message that people prefer at a time like this.
It almost feels counterintuitive to invest in telling your audience not to give you their business, but Port A is hardly the only brand out there taking this approach. Uber, for example, has been running the following commercial nationwide, with the tagline "thanks for not riding with us."
It only makes sense to stay top of mind for when customers are able to come back. And according to recently released data from Deutsche Bank, significant pent-up demand exists for restaurants, retail shopping, sports, and family leisure activities, just to name a few. The same study also recognized many activities that consumers deem "needed" if not desired, such as doctor and dental visits, banking, and auto repair—all of which have been largely put on hold over the past few months. Any brand in these categories would do well to consider how they're positioned for the time when people come rushing from their homes to meet all that demand. Just like Port Aransas, it will pay to make sure your potential customers are fully aware that you'll be ready for them.
Now's the time to ensure that your brand is positioned for a strong return. Contact Slingshot today to get started.