Resorts and influencer marketing: the good, the bad, and the annoying
April 16, 2019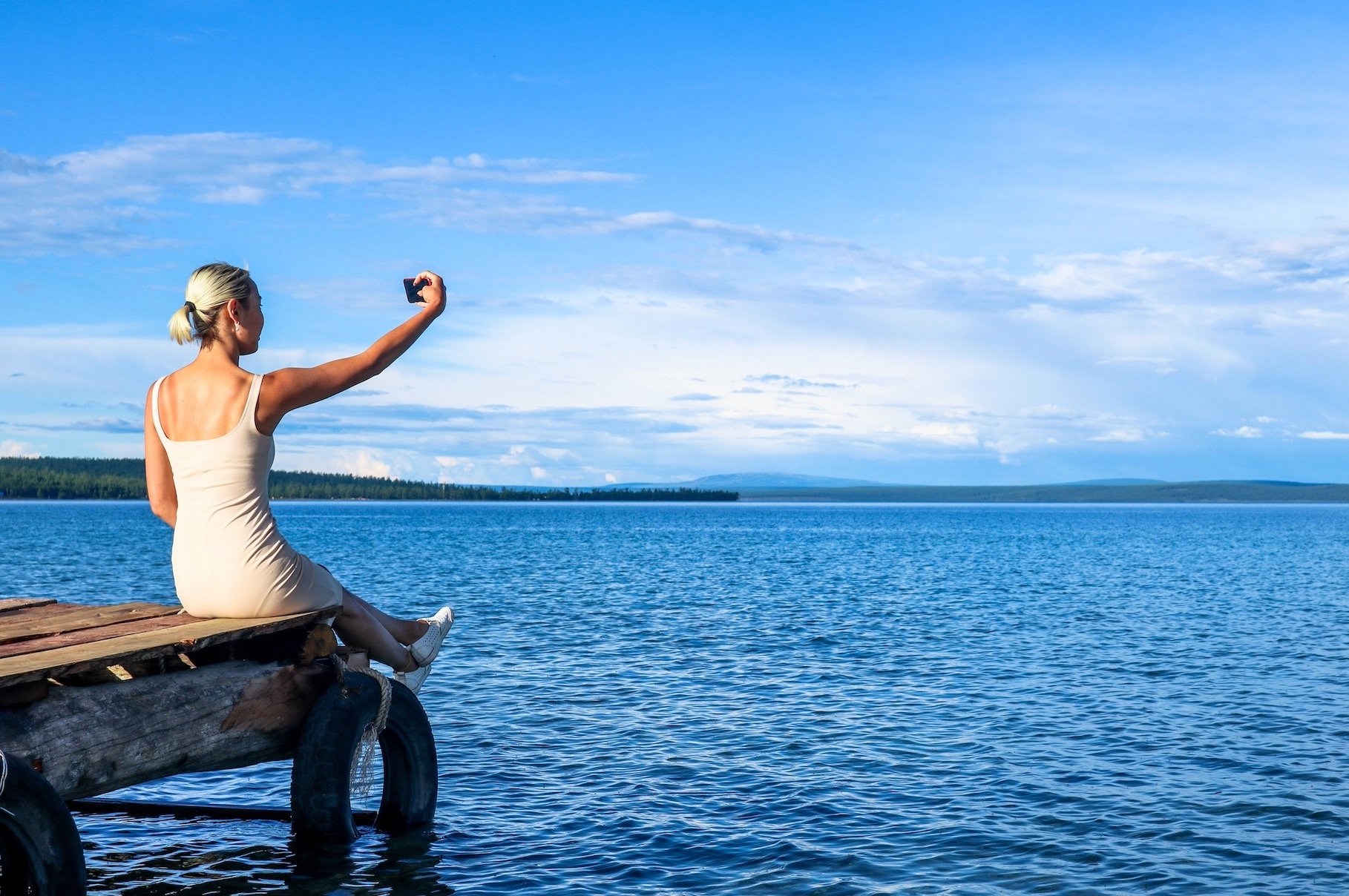 The Internet was recently abuzz when a surfing and beach resort in The Philippines posted a message on Facebook clapping back at so-called social media influencers. Though the White Banana Beach Club had used influencers as part of its marketing mix before, a steady uptick in dubious influencers reaching out to cut deals on travel was wearing on the destination. Here's what they posted: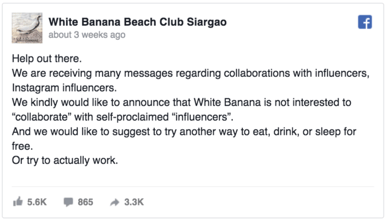 White Banana isn't the first travel brand to question the merits of influencers. In 2018, a hotel in Ireland publicly shamed a well known blogger who had reached out seeking free accommodations in exchange for posts. The incident went viral, leading to backlashes against both the blogger and the hotel, and ironically ended up generating publicity and social media followings for both.
So why all the tension between travel brands and influencers? The problem may simply lie in the number of people out there who call themselves influencers in the first place. A marketing manager at the five-star Dusit Thani Resort in the Maldives, for example, receives at least six inquiries a day from self proclaimed influencers on the hunt for freebies. It's a common reality among destinations. Upon investigation, many of these "influencers" turn out to be people with no real following beyond normal social media circles.
Nevertheless, influencer marketing is for real. Consider that 88% of consumers cite having made purchases directly because of influencers according to BizJournals, and nearly 80% have purchased by clicking on a link posted by influencers themselves. Small wonder that most marketers plan to up their influencer spending in the coming years. Already a $2 billion a year industry, spending on influencer marketing is expected to hit $10 billion by 2020. And with such a visually stimulating product, travel and tourism brands can especially benefit from a well thought out influencer approach.
Let's take a look at five big rules of thumb when thinking about adding influencers to the marketing mix.
1. Bigger does not equal better
Influencer news tends to be dominated by the big fish in the pond, like Kendall Jenner, Emily Ratajkowski and Bella Hadid, all of whom charge hefty six figure sums to post on a brand's behalf. But there are scores of niche influencers out there with smaller, possibly more relevant audiences, and smaller price tags to match. Think a few thousand very loyal followers. For many brands, these are the influencers that can make a real difference. Instead of putting all your eggs in one big basket, cultivate a long list of micro influencers, then measure and optimize like you would with any other online channel.
Do you know who's following your influencers?
2. Know your audience, and theirs
The beauty of focusing on micro influencers lies in the ability to gain a clear window into who your brand is reaching. A Kardashian fan base may seem swell until you consider that many are kids under fifteen. And they're not likely to book travel anytime soon.
By going micro, however, you can match the experiences your brand offers to the passions of any given influencer's followers. Got a golf course designed by Pete Dye or Robert Trent Jones? There are micro influencers with audiences who would eat that up. Offer unforgettable scuba trips? Look for influencers of dive enthusiasts. The list can be as varied as the experiences you provide.
3. Choose the right metrics
Beware vanity metrics, i.e. any metrics that might look good on paper but doesn't point to anything truly tangible. An influencer with 100,000 followers might seem great, but if their posts garner relatively little active engagement, watch out.
Believe it or not, there's an entire cottage industry that helps "influencers" pump up their online creds. Some time back, Quartz famously showed readers how to create instant Internet fame, complete with 50,000 followers, for only $68. A few smart peeks behind the curtain can reveal if that fame is real or if it's baloney.
4. Do your homework
If someone reaches out claiming to be a well known influencer, they should indeed be, you know, well known. Google them. Check them out on Facebook and Instagram. Go back and see how long they've been posting, and the sort of responses their posts garner. Make sure those responses are genuine, too. A lot of basic, one-word replies might be a sign of fake audience engagement, so look for comments that are thoughtful and unique. Also, pay careful attention to the nature of the posts themselves. How good is the photography? How well thought out is the writing? How are they tagged? Then ask yourself if that style is appropriate for your own brand and audience.
You can also farm some of the legwork out to the influencers themselves. Check out this form on the website for Hurawalhi, another high-end resort in the Maldives that actively pursues advantageous influencer relationships.
The more you know about the influencer, the more you know if they're right for you.
5. It's a tactic, not a strategy
Perhaps most important of all is to see influencer marketing for what it is: a tactic best considered as one part of a comprehensive marketing strategy. It's important to view it in this context, and not as some short term, quick fix solution. Make no mistake– a carefully curated influencer list can reap rewards for travel brands. With the right approach, you can use influencers to generate real returns, while keeping the fakers where they belong—off your property and out of your marketing plan.